If you are wondering about how to go with modest and yet trendy fashion, and that too, by covering your head with the hijab, then here you get the top 11 latest hijab styles for 2021. Wearing colorful, styled, customised hijabs is one of the roaring trends that you get for modest fashion, and you can wear them accordingly to maintain both style and comfort.
What are the top 11 latest hijab styles in 2021?
Layered is considered as the best hijab styles giving your face an enchanting look. The hijab is made from chiffon material with prints or diamond work. Simple to wear, the hijab comes with several layers not only on the head but also on the chest.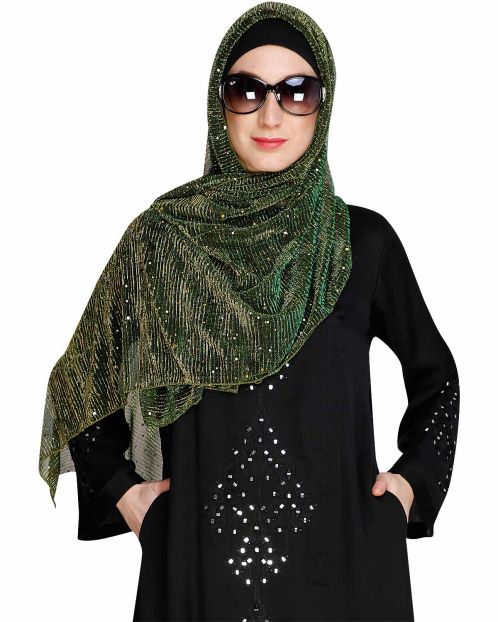 #1. Wearing the puff-sleeve dresses with hijab:
This is a modest fashion that you can go for. Wearing the right check or plain hijab with a slightly pastel colored or sometimes a dark-colored puff-sleeve dress. These dresses are ideal for a small afternoon brunch or if you want to attend a small office party or even go for a casual outing.
#2. Wearing a hijab like a turban:
It is also one of the recent experiments in hijab wrapping style that many females are coming up with. It is part of a modest fashion, and you can just wear a hijab-style turban, and pair your long gown or an evening dress with the right block heel or a soft leather sandal. To pep up the style quotient, you can add a leather bag as your immediate accessory. With the turban-cum-hijab, the best part that will look good will be the ear danglers.
#3. Wearing the hijab studded with pearl lace:
This has become a recent favorite with fashionistas. Wearing pearl-lace hijabs as a beautiful and stylish head gear is one of the latest trends that you can follow in 2021. You can experiment with chiffon material, studded with pearls so that the right hijab style looks good with Indo-western or western outfits. Instead of the borders, you can also buy a hijab that is fully decorated with pearls.
#4. Get a hijab with a floral charm attached: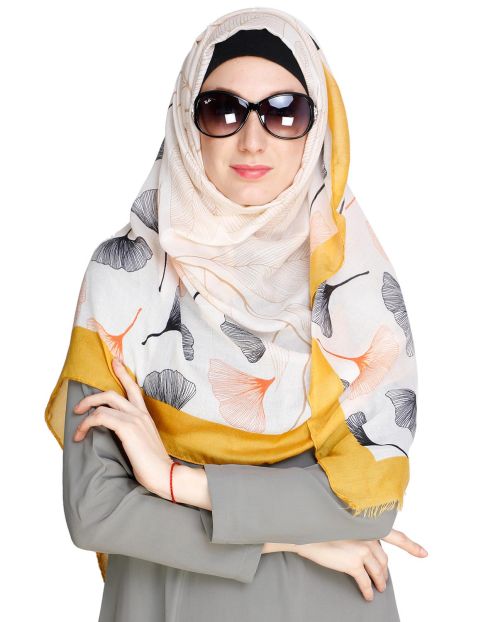 As a modest fashion for hijab, you can also go for wearing one that has a floral charm on the right-hand side. Plain satin grey, red, yellow and blue colors can be matched with colorful flowers that look good on the right side, just a little bit above the ears. Even if you do not wear an earring, that will not be a problem.
#5. Pattern or patchwork on the hijab styles:
Now many fashion designers are experimenting with patterns and different types of patchwork for hijabs. The right color, cut, shape and style go a long way in making the wearer look stylish and beautiful. Black grey, black-gold, floral and geometric patchworks are available depending on the outfit one can wear the hijab accordingly.
#6. Layered hijab:
The simple design here is to wear the hijab as per different layers. A basic chiffon material with printworks or diamond works can go a long way in making the hijab look good and also stick to the quotient of modest fashion. 
#7. Pagdi-style hijab:
This is one of the innovative ways in which one can wear a hijab in 2021. The wrapping style will be that of a pagdi, and one can wear it with both western and mix-and-match outfits. It covers only the head part which makes it look similar to that of a pagdi. The wearer can wear it in a folding manner, where double layers are present on the top of the head, and it is bounded from the behind.
#8. Wearing woollen and pashmina styles during the winter:
Now different woollen and pashmina styles are available in wearing hijab as part of modest fashion in 2021. The best idea is to wear the hijab made of a shawl-like material, that keeps the head warm and comfortable during the winter. It provides a complete coverage of the head, and the other end of the material is left falling from the shoulder neck which retains a complete style matched with any dress. 
#9. Bridal hijab with intricate work:
This is perhaps the best one for the modest fashion, the bridal style in ceremonies. Designers use pearls, colorful stone-strings and zari borders to work on the decorative angle of the hijab.
#10. Crochet works on hijab:
It is a way out from the boring hijab styles. A plain and simple hijab is given a crochet border in the same color or in contrast color to give a decent look to the wearer. Crochet flower designs and mini shapes look good for festive wear.
11. Dual colors and embroidered hijab:
Using double color shades and intricate thread embroidery not only covers the head, but also gives a more decorative look to the overall style of the hijab. If the top of the hijab is woven with golden thread, then one can also wear it for parties or for marriage ceremonies. 
How To Wear A Hijab In A Simple Style
Drape a long rectangular scarf over your head with one side longer than the other.
Pin up both sides of the scarf together under your chin.
Flip the longer end of your scarf behind your opposite shoulder.
Flip the same end back to the front of the other shoulder.
How can I look cute in hijab?
10 things you can do to look beautiful and stay in Fashion while wearing a Hijab. PLAY WITH COLORS: Find your favorite color. Select vibrant attractive colors instead of black and dull shades of gray and brown. Choose according to your personality, bright colors for bold ones or mute colors for a dull personality.
Can anyone wear a hijab?
The Qur'an instructs Muslim women and men to dress modestly. Some Islamic legal systems define this type of modest clothing as covering everything except the face and hands up to the wrists. … Women in different parts of the world have also experienced unofficial pressure to wear or not wear hijab.
Hence, these are some of the trendy ways of wearing your hijab this 2021. You can go through some style magazines or fashion and hijab websites to know more about the recent trends.